Often cracking your head wondering how your little ones at home can learn Chinese effortlessly and score well for their exams?
Sorry, but we'd have to burst your bubble. It won't be effortless, but it won't be as hard. 
There's one thing you can do though: expand your kid's vocabulary library.
When we talk about learning a language, it always seems like grammar is the most important element.
Grammar is a methodical system that's somewhat complicated, and you may be wrestling with your own mediocre Chinese skills before you're capable of teaching your child grammar. 
It may be worrying, but don't be! Leave that job to the professionals at school. It takes some time before your child will be able to master the gist of Chinese grammar.
But you can focus on helping them build the other pillar of the language—vocabulary—which we're quite sure you'd be able to do. 
But remember, we don't expect your child to memorise everything that we've listed. 
Smart learners don't memorise, instead, they link ideas together, which means

meaningful learning

. 
Vocabulary, especially idioms, are fundamentally short stories.
And stories are formed when ideas connect to one another.
So, your kid is better off trying to understand these stories than to memorise them.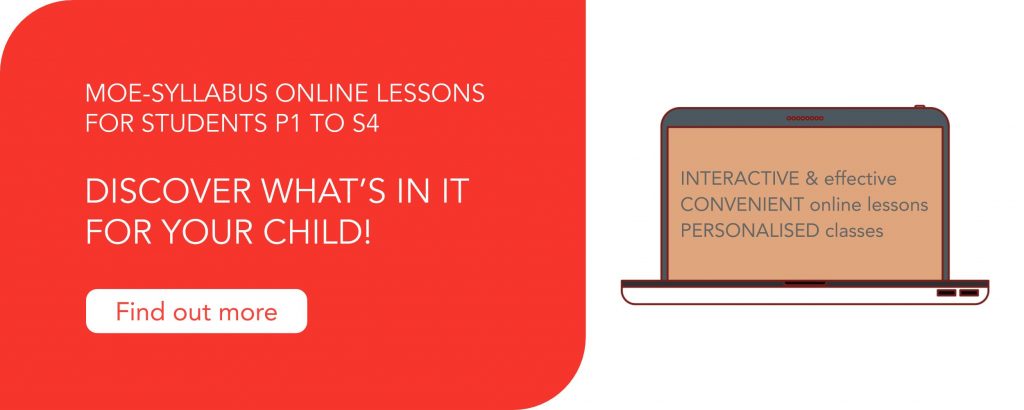 Let's first start with the basics: words (词语). 
Get the hang of Chinese in a breeze: Chinese Words and Idiomatic Expressions (词语与成语) 
Words (词语)
Commonly seen antonyms (反义词) for words (词语)
We are big fans of antonyms!  When antonyms are used effectively in a sentence, it brings life to the entire writing. It also discreetly manifests the writer's deep understanding of the language since they're able to create contrast based on the context and words. We list out a few commonly seen ones that students can use in their writings without a sweat. 
*The list is quite extensive, so take some time to go through it.
Words (词语):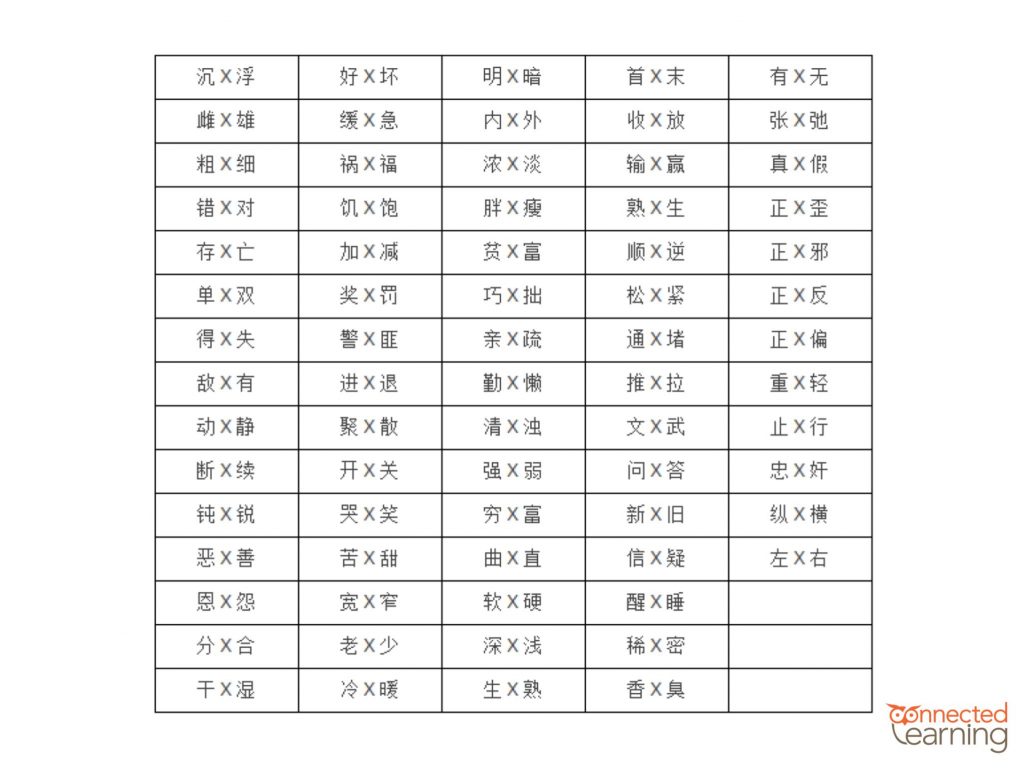 Adjectives (形容词): 
饥寒—温饱、真诚—虚假、冷漠—热忱、安全—危险、复杂—简单、温暖—凉爽、
柔和—严厉、虚心—骄傲、热情—冷淡、诚实—虚伪、傲慢—谦虚、懦弱—勇敢、
丑陋—美丽、愚蠢—聪明、正常—反常、非凡—平凡、特别—一般、扫兴—高兴、
开心—苦闷、寻常—异常、强盛—衰败、激烈—平静、嘈杂—寂静、失信—守信、
伟大—渺小、活泼—呆板、鲜艳—暗淡、严寒—酷暑、安谧—嘈杂、清醒—糊涂、
荒芜—耕种、清晰—浑浊、坚强—软弱、纯熟—生疏、陌生—熟悉、光滑—粗糙、
慎重—随便、痛快—难受、幽静—喧闹、崎岖—平坦、刚强—软弱、慌忙—镇定、
熟识—生疏、伶俐—笨拙 、镇定—慌张、羞涩—大方、严寒—炎热、洒脱—拘谨、
明朗—阴沉、沉重—轻盈、清澈—浑浊、脆弱—坚强、衰弱—强健、犹豫—坚定、
复杂—简单、自在—拘束、平常—奇特、勤劳—懒惰、密集—稀疏、胜利—失败、
宽敞—狭窄、倾斜—竖直、闻名—无名、有趣—乏味、舒畅—苦闷、高兴—难过、
飞快—缓慢、精彩—平淡、笨重—轻便、诚实—虚伪、容易—困难、熟练—生疏、
准确—错误、暴躁—温和、近处—远处、气愤—欢喜、粗心—细心、洁白—乌黑、
高兴—痛苦、宽阔—狭窄、新款—陈旧、兴旺—衰败、团结—分裂、敏捷—迟钝、
高兴—伤心、简单—复杂、常常—偶尔、幼稚—老练、含糊—清楚、严重—轻微、
茂密—稀疏、光明—黑暗、微弱—强大、杰出—平庸、恶劣—良好、灿烂—暗淡、
特殊—普通、简陋—豪华、诚意—假意、有趣—乏味、一向—偶尔、善良—凶恶、
寂静—热闹、穷苦—富裕、健康—虚弱、忧虑—放心、糟糕—精彩、潮湿—干燥、
寂寞—喧闹、奴隶—主人、统一—分裂、繁荣—衰败、精致—粗糙、权利—义务、
聪明—愚笨、空虚—充实、伶俐—笨拙、狭窄—宽阔、晦暗—明亮、勇敢—懦弱、
宽容—严格、好心—恶意、迟延—提前、破碎—完整、酥软—坚硬、炎热—寒冷、
诚实—撒谎、仔细—马虎
Verbs (动词): 
索取—奉献、喜欢—讨厌、增添—减少、怀疑—相信、轻蔑—敬重、违背—遵循、
尊重—侮辱、信奉—背弃、率领—追随、退化—进化、凝结—溶解、聚拢—分散、
拒绝—同意、挺进—撤退、结束—开始、紧张—轻松、整齐—纷乱、撒谎—诚实、
慈祥—凶恶、可爱—可恶、紧张—轻松、仔细—粗心、附近—远方、赞许—反对、
听从—违抗、承认—否认、拒绝—接受、惩罚—奖励、示弱—逞强、表扬—批评
Words of 'colours' 
There is an unspoken understanding among most educators that using slightly fancy terms, phrases or even including classic poems makes a piece of composition impressive. If that's too much to ask for, start with something simple. Plenty of expressions and idioms are derived from colours. Using them as descriptive words can lighten up the whole conversation and put a 'wow' effect on writings.
Yellow 黄:金黄、杏黄、橙黄、鹅黄
Red 红:火红、粉红、橘红、桃红、砖红、赤红
Green 绿:嫩绿、翠绿、碧绿、墨绿
Blue 蓝:宝蓝、碧蓝、蔚蓝、湛蓝
Fixed phrases (固定结构) 
We talked about using techniques to improve Chinese composition for primary school kids, such as using great composition startings and endings, using catchy phrases, etc.
These phrases are also called fixed phrases, where they have a relatively fixed structure with an order that generally cannot be changed. Too confusing? Take a look at the following and you'll get what we mean.
#1 ABB
慢吞吞、懒洋洋、兴冲冲、圆溜溜、胖乎乎、红扑扑、笑呵呵、乐陶陶、喜滋滋、静悄悄、雾沉沉、雨蒙蒙、绿油油、黑乎乎、白花花、白茫茫
#2 AABB
高高兴兴、许许多多、漂漂亮亮、扎扎实实、真真实实、真真正正、子子孙孙、仔仔细细、红红火火、明明白白、干干净净、规规矩矩、恭恭敬敬、陆陆续续、零零星星、轻轻松松、确确实实、切切实实、清清爽爽、舒舒服服、是是非非、四四方方、结结实实、断断续续、大大小小、彻彻底底、层层叠叠、长长短短、重重叠叠、日日夜夜、抄抄写写、粗粗细细、孤孤单单、高高低低、来来往往、里里外外、深深浅浅
#3 AABC
栩栩如生、翩翩起舞、恋恋不舍、历历在目、面面俱到、头头是道、源源不断、彬彬有礼、息息相关、蒸蒸日上、津津有味、滔滔不绝
#4 ABAC
人山人海、如诗如画、诚心诚意、惟妙惟肖、自言自语、自怨自艾、无影无踪、无法无天、无边无际、各式各样、有说有笑
#5 又A又B
又唱又跳、又长又细、又说又笑、又松又软、又香又脆、又圆又大、又滑又嫩
#6 A来A去
游来游去、飞来飞去、说来说去、跑来跑去、抛来抛去、走来走去、跳来跳去
#7 不A不B
不慌不忙、不紧不慢、不知不觉、不闻不问
Idiomatic expressions (成语)
Phrases and their antonyms and synonyms
Synonyms and antonyms are important to writing, whichever language it is for. 
Some benefits of synonyms and antonyms: 
Improve reader's experience

Make text much more engaging 

Help avoid boring and repetitive text
Click on the images below to view various phrases with their corresponding antonyms and synonyms.
Here's a video for more!
Conclusion
We're not quite done yet! We're going to continue updating the topic so hang on tight to this blog so you can guide your child to grasp what's important for the language!
Is your child bad in Chinese vocabulary? Forming good sentences? Or need more improvements in their oral language skills? 
Our online live lessons targets to brush up student's oral, comprehension, listening comprehension, composition and spelling skills. And most importantly, to grow their interest in learning Chinese! 
Click below to discover what our lessons can offer to help your child.