Perhaps you've been trying to pick up a few tricks or tips here to make the long, tedious Chinese learning process for your primary school kid an easy one. If it doesn't appear to be working well for whatever reason, it may be good to rejuvenate the focus.
As we've mentioned, words, terms and phrases are the basis of learning Chinese. And they're surprisingly the core of how kids can develop their Chinese skills naturally.
But how should you start? Let's first take a look at the 5 important tips to learn Chinese words and idioms. 
Related: Learn Chinese Effortlessly: Extensive List of Chinese Words and Idiomatic Expressions (词语与成语) Part 1 
Related: Learn Chinese Effortlessly: Extensive List of Chinese Idioms (词语与成语) Part 2
5 important tips to learn primary school Chinese words & idioms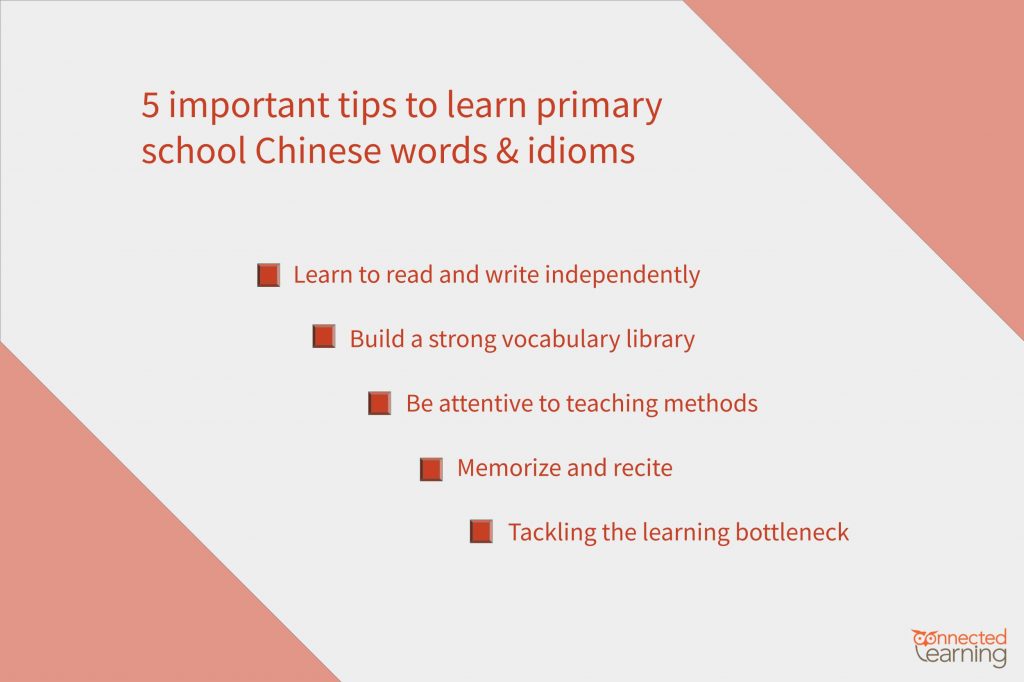 Yes, learning Chinese isn't anywhere near easy. And no, it's not time to throw in the towel and let nature take its course. Like any other subjects, there are methodologies in learning Chinese. Take note of these 5 ways; there's something for most young learners, no matter their learning styles.
1. Learn to read and write independently 
In the first couple of years, primary school students will learn how to identify words. Afterwards, they should be able to recognize and read out terms that are pointed out to them. Vocabulary excellence is mostly driven by regular activities that focus on independent reading and writing. Regularly reading materials outside of the classroom and learning unfamiliar terms is probably a great start. 
2. Build a strong vocabulary library
Words and terms are the nuts and bolts to express thoughts accurately. As much as we emphasize the importance of outside classroom learning, academic textbooks are also as pertinent. Students will have a stronger grasp of new terms and words when they fully comprehend the context of the article, helping these newly acquired words, terms or idioms stick better.
3. Be attentive to teaching methods 
In the midst of primary school, learning methods get gradually important. Identifying your kid's learning styles and distinguishing teaching methods that work better for them can cement their learning abilities and transfer these abilities outside of the classroom. Also note that students have different learning characteristics for each semester, depending on the intensity of the curriculum. So, it's vital for parents to know what works better for their kids to achieve more with less. 
4. Memorize and recite
Realize that your primary school child has powerful memorizing and reciting skills? It's actually a distinct characteristic of children aged eight or nine. And what's relieving is that they're willing to do so. However, school textbooks are far from enough to fill a child's learning void. Adding classic poems and stories can improve your child's memory, and also a great way for them to touch base with this rich and wonderful language.
5. Tackling the learning bottleneck
One of the obstacles in learning Chinese is getting to grips with articles, fully and deeply. It's a daunting process, for both parents and kids. As the curriculum gets harder progressively, it gets challenging for children's current cognitive level to accurately and deeply understand an article. The ability to grasp the core, notable sentences, keywords, etc., starts from this period, and it'll get easier when the ability is formed step by step under the guidance of the teacher. During which, let them take it slow and allow them to soak up the content.
Related: Superb Chinese Learning Habits That Every Student Should Master
What should parents do to help children learn Chinese idioms effectively
Check your child's homework daily.

Assist your child when they're solving difficulties faced during homework.

Recite.

Pay attention to homework and correct mistakes in time.

Prep ahead for upcoming assignments and curriculum.

Frequently go through children's textbooks.

Help children develop reading habits.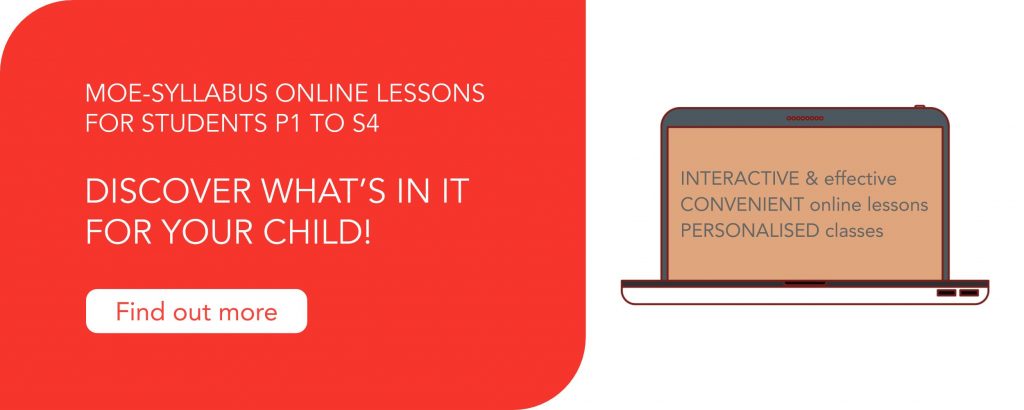 How to cultivate good reading habits?
Read every day.
Concentrate while reading.
Write notes while reading.
Think while reading.
Cultivate the habit of reading with reference books.
Essential techniques to learn Chinese words and phrases efficiently
Skim through before new lessons begin  

Read the text aloud 3 times

When reading for the first time, mark each natural paragraph with numbers, annotate unfamiliar words with pinyin, and underline terms and phrases composed using these unfamiliar words.

Read the passage again, practice reading aloud, take note to pause when necessary, and repeat the process at paragraphs that they're not familiar with. 

Underline unfamiliar words and terms

Highlight unfamiliar words and terms, add pinyin and radicals next to them and go through the dictionary for these words.

Ask questions while silent reading

Ask them to ask at least one valid question in their mind, then let them find the answers on their own. 
Also, remember to…
Revise materials from previous lessons
Read the text aloud, and try to be as fluent and with emotions, then read terms and sentences that are noteworthy again.
Carefully read the pinyin, radicals, and words that are taught, and use a variety of methods to remember the new words.
Spur your child to retell the passage that they've read, and what they've learnt from it. This practice can improve students' reading comprehension and oral expression, and is really helpful for writing.
Be serious about home assignments
Identify and correct errors made in the last assignment.
Start practising on writing new pieces of work. Make sure your child's handwriting is neat and clean.
Check work thoroughly after completion.
Conclusion
As we've mentioned, reading is incredibly crucial to learn Chinese words and idioms, and it's best to do it regularly. Take 15 minutes each day to read extracurricular books. To make the most out of these minutes, remember to write too. Jot down remarkable words and sentences, and write down comments after reading these passages. 
Kids can't concentrate while learning new Chinese idioms, terms and phrases? Our tutors are trained to engage students in the lessons where they'll be able to pick up new knowledge, and eventually produce promising and complex pieces of writing in time to come. 
Hurry and sign up for a free trial lesson now!